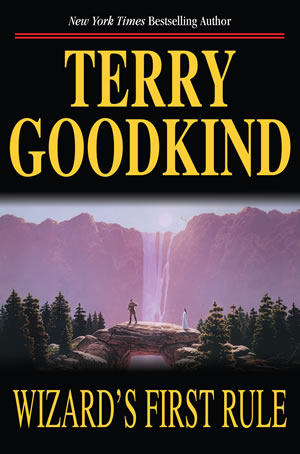 Book One of Ten of the Sword of Truth Series
OMG This is a wonderful book!! I loved it. Richard Cypher's character is written so well as is the others. Just when I thought the book couldn't get better, it did! The author has quite the imagination.
The details on the characters and places and peoples are all there. No guessing on aspects of their lives. It is as if you have known them all your life. You feel for them.
Their quest to save their world, and all those in it, including the creatures, magic and normal, is one of great adventure and sorrow. If you are the sort to cry and laugh while you read, you will with this book! With each new character, including the Mord-Sith, you find your self feeling things that you thought were not possible. I love the way Terry Goodkind shows you both sides of each character, and Richard's insight, is not only great but also a burden. Terry really knows how to write and get you to understand such thinking. Not something that I see very often. Many may not even understand but the Mord-Sith add something to the book and the Sword of Truth that makes the magic even more magical!
It was easy to follow and you didn't have to keep looking back to check on a detail. I love that part! It switches between the characters, easily and in such a way that you where trying to hurry to go back to the other characters but you didn't want to miss a single detail!
I have always enjoyed books about wizards, underworld and other magic creatures. I read this book simply because of the title. I didn't read the

Synopsis before hand, still haven't.
The idea of the characters, The Seeker, Mother Confessor and another Mord-Sith, where very creative! The Mord-Sith
surprised
me to no end! I just couldn't get over the
imagination
that went behind these characters.
Most of all I loved the Wizard's First Rule itself, it makes sense and is so true!!!! Can't wait to learn more of the rules!
Now I had no idea that this was part of a series when I started it, in fact didn't know until I was almost finished it! It is a series of 10 books plus a prequel short novel, the series is called the Sword of Truth.
Was trying to describe the book to my boyfriend and told him it would make a great movie (if it followed the book) and would probably be a mini series--and before I knew it was a series of 10 books! When I was done reading it, and check to see if I had the whole series (turns out had 8 of the 11 books) but not the second! I have it now, went out and bought it as soon as the store opened and could put money on my Coles card! Would have had to wait at least 24 hours if bought card on line, I just couldn't wait!
Anyways while I was checking the order of the books I found a piece of information that surprised me.
A few years ago I watched a show called The Seeker. I quit watching because I realized I needed to see it from the beginning. Was waiting for it to come back on, as a rerun. Turns out The Seeker is based on this series, Sword of Truth!
I can not wait to see what is coming next!
My Rating:
One of the best books I have read in a long long time!
Aj